Schedule a Free Consultation Service Here!
Custom Sofas - Buy now pick fabric later
(408) 868-5203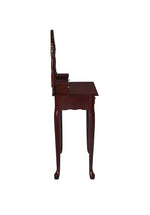 2-piece Vanity Set with Upholstered Stool Brown Red
Regular Price

$379.00

Sale Price

$379.00

Regular Price

Unit Price

per
This brown red finish vanity set imparts a traditional accent to your dressing room or walk-in closet. It features two pull-out drawers to organize makeup and stationery. Two compartmental drawers on the vanity top hold jewelry and other fine accessories. Small adjustable mirror helps to make sure you get the look just right. Comes with matching upholstered seat.
Shipping and local delivery services
Made To Order Sofa & Sectionals
Customize a Sofa & Sectional to any size dimensions, 100+ fabric options, seat cushion firmness & configurations.
Regular Price

$3,299.00
Sale Price

$3,299.00

Regular Price
Unit Price

per
Regular Price

$3,899.00
Sale Price

$3,899.00

Regular Price
Unit Price

per
Regular Price

$3,129.00
Sale Price

$3,129.00

Regular Price
Unit Price

per
Regular Price

$3,749.00
Sale Price

$3,749.00

Regular Price
Unit Price

per
Regular Price

$3,299.00
Sale Price

$3,299.00

Regular Price
Unit Price

per
Regular Price

$3,849.00
Sale Price

$3,849.00

Regular Price
Unit Price

per
Regular Price

$3,999.00
Sale Price

$3,999.00

Regular Price
Unit Price

per
Regular Price

$3,449.00
Sale Price

$3,449.00

Regular Price
Unit Price

per
Regular Price

$3,129.00
Sale Price

$3,129.00

Regular Price
Unit Price

per
Regular Price

$3,749.00
Sale Price

$3,749.00

Regular Price
Unit Price

per
Regular Price

$3,129.00
Sale Price

$3,129.00

Regular Price
Unit Price

per
Regular Price

$3,299.00
Sale Price

$3,299.00

Regular Price
Unit Price

per